Nowadays security is one of the most appreciated assets in any environment or situation. Not having to worry about feeling safe and protected is an intangible but very important value. This is why we are constantly improving so that you don't need to worry about yourself. With Herta security facial recognition software, you can improve your security and help people feel safe.
solution category
Bio Access

Face biometrics is used to identify users from access control lists and verify their identity. Our access control solution facilitates user management at runtime and allows users to be enrolled on-the-fly by video capture. This technology yields excellent performance despite partial occlusions of the face, the use of glasses, scarves or caps, changes of facial expression, and moderate rotations of the face. Facial recognition technology is the perfect solution to control the access of users to physical locations such as buildings, offices, datacenters or restricted security areas.

Supports changes of facial expression and presence of glasses, beard, scarves, or hats
Ability to register people based on one or various photos and videos
Integration with third-party access control systems
Exportable alarms
Integration SDK available
Alarm management during execution, highly configurable

Bio Finder

BioFinder is the solution from Herta that makes it possible to search for a specific subject, using facial recognition, in one or various recorded videos. By working with GPU technology, the software manages to process at a high-speed rate all the images of the analyzed video. BioFinder makes it possible to analyze at speeds faster than real time. BioFinder is ideal for forensic analysis or classification of information and, amongst other applications, is used by police forces and intelligence agencies to search for suspects.

Simultaneous recognition in multiple recordings
GPU technology that allows for speeds several times higher than real time
Intensive frame to frame analysis, without omissions
Supports changes of facial expression, lighting, and presence of glasses, beard, scarves, or hats
Ability to register people based on one or several images

Bio Surveillance

Face recognition is one of the least invasive biometrics, since data is captured effortlessly and generally involves no user interaction. Herta's video surveillance solution, BioSurveillance, detects multiple faces in real-time, incorporates on-the-fly video enrolment, identifies previously trained individuals, and facilitates run-time management of alarms and individuals.

BioSurveillance uses video surveillance cameras to recognize the faces of blacklisted people.
BioSurveillance yields excellent performance with partial occlusions of the face, glasses, scarfs, caps, changes of facial expression, shadows, high contrasts and extreme or poor lighting conditions, and on moderate rotations of the face
BioSurveillance works on the move and at a distance, and does not require end-user collaboration.
Individuals can be enrolled in the system through a photograph as well as using real time or recorded video
http://www.hertasecurity.com/es
Address
Corporate HQ:
Monem Business District, 111 Bir Uttam C R Dutta Road, Dhaka 1205
Phone: +880-9606221100, +880-9606221118-19, +880-9606221182
latest posts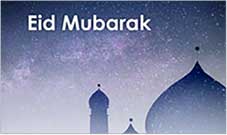 May the Almighty accept your prayers and your sacrifices. Eid Mubarak!
August 09, 2019 | Posted by aiimglobal